White Sox Power Rankings: Mid-April Edition
When I originally wrote the White Sox Power Rankings before spring training began, the plan had been to write the next set after spring training came to an end, and before the regular season started.
Oops!
Instead, here we are, now over a week into the season, with seven games under our belt. Seven good games too, as the White Sox are off to their first 5-2 start since 2012, which is also the last time the Sox had a winning record.
The most recent seasons before 2012 with a 5-2 start were 2005 and 2008. One of those seasons ended in a World Series, and the other was the last year the Sox actually made the playoffs.
So, you know, there's reason to be optimistic right now, even if there still are 155 games to go. With today being the first (scheduled) off day of the regular season, it felt like as good a time as any to release the second edition of the White Sox Power Rankings.
So, without any further ado, here they be.
10. Todd Frazier (Last time: 4)
: Frazier drops six spots because, even if he's hit two home runs, and driven in 21.4% (6 of 28) of the team's runs this season, there's still one thing holding him back.
It's not his glove, which has been excellent so far, as he's showed a quick first step and excellent range already. Nor is it his power, as I already mentioned the homers.
It's just that, with two home runs and a double to his name, he still only has an OPS+ of 96, meaning its four percent below league average.
While he's come up with some very big hits, Frazier just hasn't come up with many hits overall. He's slashing .207/.258/.448 right now. I fully expect all of those numbers to improve as the season goes on, don't get me wrong. It's just, given how big ticket acquisitions tend to work around these parts, I'm still somewhat leery as well. It's only natural. I want to see some singles sprinkled in between all those big hits.
9. Jimmy Rollins (7)
: Rollins is in a situation similar to Frazier, but his lower expectations help bump him higher on the list.
Overall, Rollins is hitting .160/.185/.320, which is horrible. Particularly because Robin insists in hitting him second when he plays. I don't know how long that will last, but if Rollins doesn't start performing better, he better not be there much longer.
Anyway, the reason Rollins is ranked at all is because, even if he's not hitting a lot, his sense of timing seems to be on. It was his homer in Oakland that bailed out a bullpen who had ruined things for
Jose Quintana
, and Rollins delivered a key double in the comeback win against Cleveland on Saturday.
Defensively he hasn't been anything brilliant, but he hasn't seemed like much of a liability either. Though it helps that he has Todd Frazier covering extra ground to his right.
8. Melky Cabrera (Unranked)
: There's been plenty of talk about Melky being one of the most important parts of the White Sox offense this year, and I understand it. We know what the top guys are going to do, but the White Sox need the next level guys to have strong years as well, and Melky fits into that category.
So far so good.
Among the regulars, Melky's .269 average is fourth on the team, and his OBP of .345 trails only
Adam Eaton
and
Jose Abreu
. Also, he hasn't struck out in any of his 29 plate appearances. The only other White Sox to not strike out this season is
Jerry Sands
, and he's stepped up to the dish once.
My concern is that all of Melky's seven hits have been singles. While he's not going to be a guy hitting 20 home runs a season, he actually led the team with 36 doubles last season. We need some of those extra-base hits to make an appearance. If they do, maybe Robin will consider moving Melky up to the second spot in the lineup and leaving him there.
If he does, we know how he'll celebrate.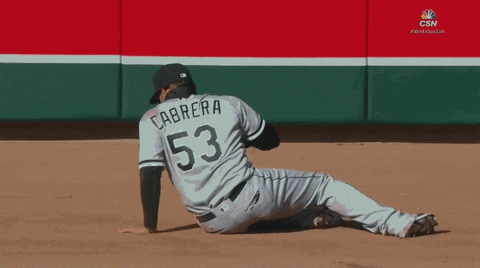 7. David Robertson (UR)
: So far the White Sox closer has been exactly who we expect him to be. He's been called upon three times, and he's picked up three saves, getting nine outs while only facing 10 batters. I've never been the type of person that believed in spending a lot of money on a closer, but when the Sox signed Robertson last year, I was actually happy about it.
I think, given the way we've seen things change in baseball the last few years, maybe your bullpen is something you want to start investing more money in. We've certainly seen teams start to follow the Kansas City model of locking down the seventh, eighth and ninth, and with Robertson in the fold, it certainly seems like the ninth inning will be safe most of the time.
I'm just hoping that the Sox give Robertson more meaningful games to close out this year.
6. Mat Latos (UR)
: I'm probably ranking Latos a bit too high here. I'm fully aware of this.
I'm also aware that the reason for this is my expectations may have been low coming out of Arizona, as Latos certainly didn't seem very impressive. In fact, Latos' spring performance no doubt played a role in the White Sox signing
Miguel Gonzalez
after the Orioles released him to put yet another bridge between Chicago and the likes of
Erik Johnson
and
Jacob Turner
.
Latos looked good in his first start of the season, though. He pounded the strike zone, and allowed only one hit over six innings. The problems were that he struck out only two hitters in those six innings, and he didn't miss a lot of bats. In his career, opposing hitters have swung at and missed 17.1% of the strikes Latos threw. Against Oakland only 10.7% of the strikes Latos threw were of the swing and miss variety. In fact, Oakland hitters made contact with 86% of the pitches they swung at, which is nearly a full 10% higher rate than Latos' 76.4% contact rate.
So the odds are that Latos got a bit lucky in his first Sox start, as his 3.17 FIP also suggests. There's good reason to believe that Latos could have some rocky performances ahead, which means the fact the Sox had a game rained out on Sunday could be a blessing in disguise.
The Sox pushed every starter back a day, but
Robin Ventura
also said that the team is considering keeping
Chris Sale
on his regular schedule. That would mean that instead of the rotation going from Latos to
John Danks
and then turning over to Sale, Sale would be placed between Latos and Danks.
That could be an excellent way of avoiding losing streaks.
5. Chris Sale (1)
: Speaking of Chris Sale, he's been excellent through his first two starts, but he hasn't quite been Chris Sale, either. I
wrote about the historic rate that Sale has struck hitters out
during his career, but two starts in, he's a bit behind his career numbers.
Of the five White Sox starters, only
Carlos Rodon
has a higher FIP than Sale's 3.84, and his K/9 rate is "only" 9.0 through two starts, and his WHIP of 1.143 would actually be a career worst if it stuck around all season.
I say all of this knowing that I'm nitpicking, however.
Sale took the mound on Saturday afternoon in 32 degree temperatures, and he wasn't wearing long sleeves. It was very clear during the first two innings that he was not comfortable, as his fastball was coming in between 89 and 91 mph before he literally warmed up. He also gave up a homer to
Mike Napoli
on a changeup that was off the outside corner. It was just an impressive swing by Napoli.
What I'm saying is, even if he hasn't been your typical Chris Sale, he's still been better than just about everybody else could dream to be. He'll be fine.
4. Austin Jackson (UR)
: Austin wasn't even on the team the last time I wrote these power rankings. He is now, and in his limited time, I've really liked what I've seen.
Jackson hasn't had to make any amazing plays in the field, but he's been excellent in center so far, covering a lot of ground and making life easier for everybody else. He's also been somewhat surprising at the plate.
Jackson's always been a guy that's going to strike out, as he has a career rate of 23.5%. So far he's struck out 17.4% of the time, and I fully expect that number to get larger as the season goes on. As I wrote when the Sox first signed Jackson, though, while his numbers overall have dipped the last few years,
he's actually begun seasons well
.
It wasn't until after he was traded each of the last two seasons that his numbers really fell off a cliff each season. So far, Jackson is hitting much more in line with the pre-trade versions that hit .272 with a respectable .322 OBP than the guy who hit in the .230 range post trades.
And he's hitting the ball hard too.
On Saturday against Cleveland, Jackson would have had two home runs and a double if the game had been played on a typical day in July. Instead the wind and the cold reduced him to a 1-for-4 day. On Monday he missed a grand slam by an inch, maybe two. He followed up that disappointment with a shot right back up the middle to score two runs on the very next pitch.
If Jackson shows the same kind of pop he's shown so far throughout the season, he could prove to be a very important part of this team.
3. Matt Albers (UR)
: Albers is well on his way to cult-hero status on the south side, as there's nothing White Sox fans love more than fat dudes. Given the fascination baseball fans have with
Bartolo Colon
and
Pablo Sandoval
, now that I think of it, it's probably not just White Sox fans.
Anyway, it's not just that Phat Albers is rotund, it's that he's been superb as well, showing off some athleticism as well.
— Chicago White Sox (@whitesox) April 12, 2016
Following that appearance on Monday, Albers has appeared in 24 games covering 27.1 innings without allowing a run. The last time Albers pitched in a game and allowed a run (August 5 last season),
Adam LaRoche
pitched in the same game.
2. Jose Quintana (UR)
: We're only seven games in, and only Quintana and Sale have made multiple starts, but so far, no Sox starter has pitched better than Quintana has. He'd be 2-0 if not for the bullpen doing what it does best -- blowing a win opportunity for Jose Quintana in his first start in Oakland.
Still, he's 1-0, and through his first 11.2 innings, Q has allowed only three runs and walked only three hitters while striking out 12. He actually has a K/9 of 9.3, which is higher than Sale so far, and it seems like he's going to his breaking ball more as a wipeout pitch.
In previous years it always felt like Quintana would use the curve more as a show-me pitch than anything, just letting hitters know it was there. Through his first two starts he's gone to it in two-strike counts more often than I remember, particularly against Minnesota on Monday.
It's possible that this is just a game plan for teams like Oakland and Minnesota, or maybe he just wants to use it more. Just something to keep an eye on during Quintana starts from here on out.
1. Adam Eaton (10)
: Eaton has rebounded rather well from the ridiculousness following the Drake LaRoche situation. Through the first four games of the season it felt like Oakland just couldn't get him out, and while he's cooled off a little bit the last two games, Eaton is still putting up a line of .417/.481/.542.
He also seems to be adjusting well to right field, though at times his arm has looked like the arm of somebody coming off shoulder surgery, so that could become a problem as the season wears on. I'm guessing a lot of opponents will be going from first to third until Eaton gives them a reason to think twice.
If he's getting on base nearly 50% of the time, however, you can live with that.
Life is going well for Eaton off the field too, as he had to miss Saturday's game against the Indians because he and his wife had to welcome a new addition to the family.
— Chicago White Sox (@whitesox) April 10, 2016
No Longer Ranked: Jose Abreu, Alex Avila, Dioner Navarro, Carson Fulmer, Avisail Garcia, John Danks